Uniting Key Sector Players in the Leather Value Chain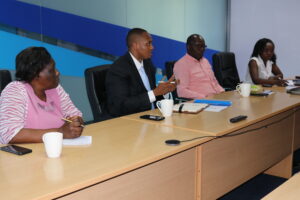 12/10/2023: The government through the Bottom-Up Economic Transformation Agenda (BETA) has identified leather as a priority value chain. The sector has the potential to create 100,000 jobs from the current 17,000 jobs over the next five years and can create 100B worth of value from the current 15B.
To achieve this goal, the KAM leather and footwear sector led by the sector Vice Chair Mr Robert Njoka held a caucus meeting with key players in the value chain including the East Africa Hides and Skins Traders Association represented by the association chairman Mr John Kariuki, and the secretary Mr Murimi Njahira and Leather Articles Entrepreneurs Association represented by Mr Allan Tugee and Ms Virginia Wangigi.
The discussions were centered around how KAM can collaborate with all stakeholders in the value chain including butchers, abattoirs, and hides and skin traders to unlock the potential in the sector by addressing the existing challenges including smuggling of raw hides and skins, deteriorating quality of raw hides and skins and lack of technical skills in the sector.
The players agreed to come up with a framework that would show the way to actualize the dream towards the attainment of the government agenda.
Looking for elevation? KAM lifts you up.
Direct technical assistance
Capacity building programmes
Networking and mentorship
Industry insights & analysis
Trade & export development services
The Kenya Association of Manufacturers wants your company to live up to its full potential. That's why we provide direct technical assistance and training to growth-oriented manufacturing SMEs, keeping you at the top of your game always.
Join us today, we're at your service.
Search for articles