Energy Services

KAM in conjunction with the Ministry Of Energy and Petroleum Development established the Centre for Energy Efficiency and Conservation (CEEC) in 2006. The Centre runs energy efficiency and conservation programs designed to help companies identify energy wastage, determine saving potential and give recommendation on measures to be implemented.
The Centre provides professional technical services for developing, designing and implementing energy efficiency projects to suit the needs of commercial, institutional and industrial consumers. The main aim is to reduce cost and enhance competitiveness and profitability while promoting a clean and healthy environment.
Key Products
Energy Audits
CEEC offers subsidized energy auditing services with the support from the government of Kenya (Ministry of Energy and Petroleum Development) and the Danish International Development Agency (DANIDA). The Centre runs an energy audit programme which is open to all companies doing business in Kenya who are interested in reducing their energy consumption. CEEC will audit your facility and give recommendations that can save your enterprise an average of  20% of your energy budget.
Specialized Training
The Centre offers Energy related trainings at subsidized fee. The trainings cover a wide scope of courses with practical approaches to energy management by offering hands-on approaches to assist industries successfully implement energy management programs in the current energy scenario.
The energy trainings serve to equip participants with understanding on how to apply energy management principles resulting in reduced energy consumption and significant cost savings.
Certification Services.
On top of the regular trainings  offered by CEEC, we also offer Certification services in conjunction with the Association of Energy Engineers (AEE) in the USA. The certification  offered include:
Certified Energy Manager (CEM)
Certified Measurement and Verification Professional (CMVP)
Energy Management award (EMA)
EMA is an annual award that promotes excellence in energy management and recognizes enterprises that have achieved significant reduction in their energy consumption through implementation of energy efficient measures and technologies.
EMA offers Sponsorship Opportunities which provides a platform for sponsors to be recognized and applauded for playing a key role in promoting energy efficiency.
Exchange Visits
The centre coordinates exchange visits to enable engineers, energy managers, consultants among other players get a firsthand experience on application of various EE/RE technologies. The tours include visits   include to Solar powered farms, Mini-hydro projects, Biogas generation sites etc
Several companies are at various stages of developing their own RE projects as a result of this study tours.
Resource Audits
CEEC  with  DANIDA is keen to support efforts towards implementation of resources efficiency in organizations. The resource audits will assist manufacturers and other target sectors to reduce production costs through increased efficiency, thereby increasing profits, increasing employment opportunities, creating more wealth and alleviating poverty. In addition, this exercise will help reduce greenhouse gas emissions and thus contribute to mitigation to climate change.
Climate Change
The impact of climate change is already being felt in Kenya and it is expected to have a direct effect on both energy supply and demand, as well as on energy related infrastructure. Kenya's Greenhouse Gas emissions have risen on a steep curve and energy sector emissions are estimated to have increased by as much as 50%.
Thus the center carries out awareness programs on climate change and participate in policy formulation with the government.
Other Activities
The centre is also involved in developing energy use  benchmarks for various sectors of the economy, supporting the government in formulating and implementing policies aimed at encouraging rational use of energy, building linkages with other stakeholders in the energy field among other activities.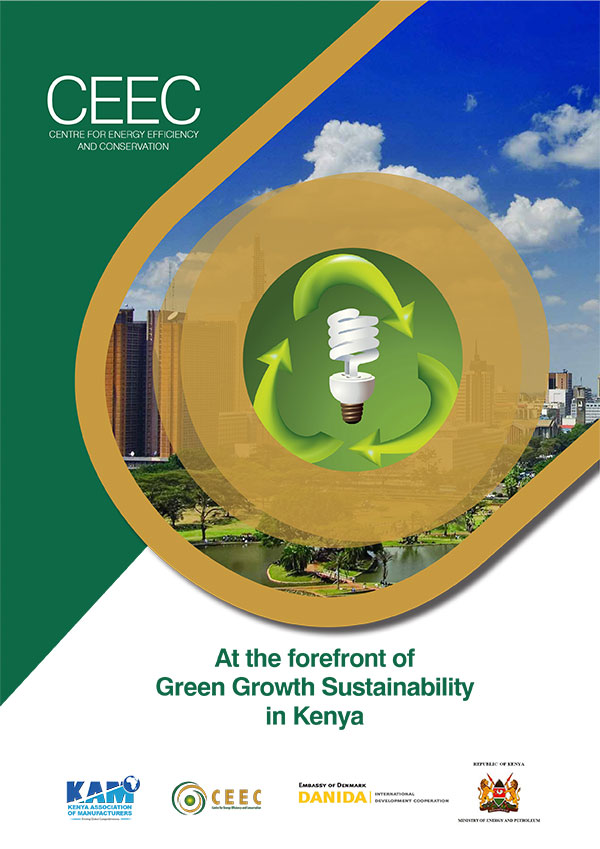 Looking for elevation? KAM lifts you up.
Direct technical assistance
Capacity building programmes
Networking and mentorship
Industry insights & analysis
Trade & export development services
The Kenya Association of Manufacturers wants your company to live up to its full potential. That's why we provide direct technical assistance and training to growth-oriented manufacturing SMEs, keeping you at the top of your game always.
Join us today, we're at your service.