Promoting Green Growth and Environmental Health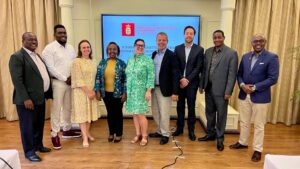 15/09/2023: The Steering Committee of the Strategic Sector Collaboration Network, led by the Danish Ministry of Environment, of which KAM is a member, met to review progress in promoting green growth and environmental health in the country.
Principal Secretary, State Department for Environment, Eng Festus Ngeno applauded the partnership that has enhanced the skills and expertise of over 1000 Kenyan stakeholders in green growth and the circular economy, fostering peer learning on insights, principles, and industry practices.
KAM Chief Executive, Mr Anthony Mwangi highlighted key achievements, including the LOOP Forum and Expo held in February 2023, which showcased practical solutions and business models in the circular economy and facilitated matchmaking between businesses for partnerships.
The Committee reviewed key outcomes from the recently concluded Africa Climate Summit and discussed the upcoming LOOP forum scheduled for February 2024. One initiative is KAM's commitment to drive green manufacturing in Kenya as part of its climate action efforts.
Looking for elevation? KAM lifts you up.
Direct technical assistance
Capacity building programmes
Networking and mentorship
Industry insights & analysis
Trade & export development services
The Kenya Association of Manufacturers wants your company to live up to its full potential. That's why we provide direct technical assistance and training to growth-oriented manufacturing SMEs, keeping you at the top of your game always.
Join us today, we're at your service.
Search for articles