Manufacturing Priority Agenda
Since 1959, when the Kenya Association of Manufacturers (KAM) was formed, we have sought to develop Kenyan manufacturing by pushing outward the fringes of the sector to new productive areas and activities. We have grown from a small club of like-minded manufacturers with a common vision to a powerful voice for the sector in this country.
In 2020, the word and the feeling of normal was overturned and redefined. We lived through a remarkable period in history. A period that forced us to put into perspective our human interactions, our systems, and our resilience.
As a country, we had to review our priorities and vulnerabilities especially when it comes to our economic resilience and sustainability.
The manufacturing sector is the engine of growth that drives an economy. There is consensus among policymakers, academicians, and researchers that hope rests in promoting industrial manufacturing for countries mired in poverty.
Kenya is already making efforts to industrialize, guided by aspirations set out in Vision 2030 among other development programs. In 2020, the unprecedented health crisis and economic crisis due to the COVID-19 pandemic ravaged economies and businesses and destroyed livelihoods.
A KAM, KPMG Survey revealed that COVID-19 severely impacted the manufacturing sector in Kenya. Nonetheless, manufacturers are optimistic that they will weather the storm created by the pandemic.
This optimism is reflected in this year's Manufacturing Priority Agenda (MPA) themed, 'From surviving COVID-19 to thriving: Manufacturing sector rebound for sustained job and investment growth'. It outlines proposals to support robust economic and manufacturing sector recovery, consistent with the government's post-COVID-19 recovery strategy.
The Priority Agenda highlights the importance of a competitive local manufacturing sector.
Read and download the Manufacturing Priority Agenda (MPA) 2023 and the Abridged version of the MPA 2023.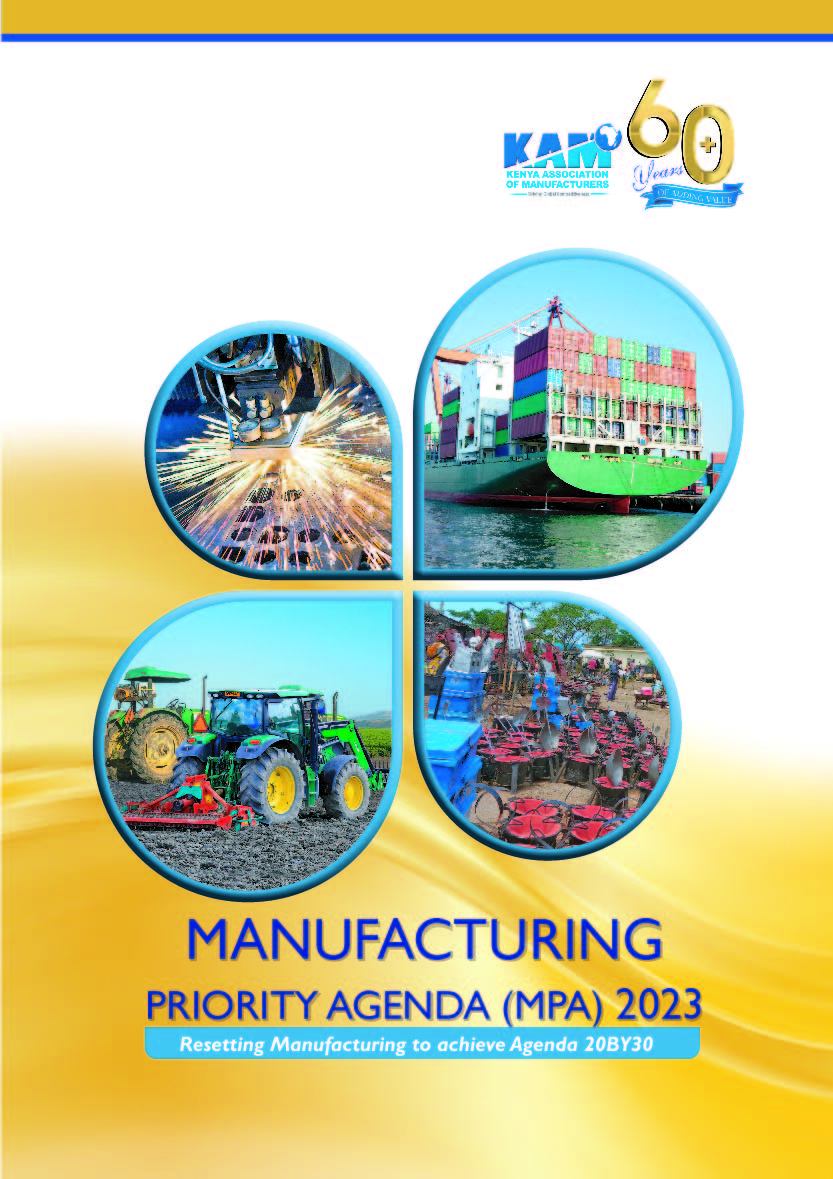 Looking for elevation? KAM lifts you up.
Direct technical assistance
Capacity building programmes
Networking and mentorship
Industry insights & analysis
Trade & export development services
The Kenya Association of Manufacturers wants your company to live up to its full potential. That's why we provide direct technical assistance and training to growth-oriented manufacturing SMEs, keeping you at the top of your game always.
Join us today, we're at your service.