Leveraging Technology, Research and Skills in the Manufacturing Sector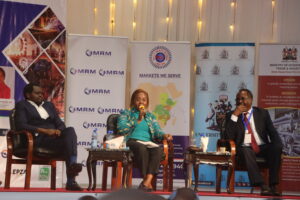 20/11/2023: During the Kenya Industrialization Conference held at the University of Nairobi, KAM Chief Executive Anthony Mwangi participated in a panel discussion focusing on how to commercialize research output. He shed light on the intricate relationship between research, industry, and economic progress, providing a framework for fostering a thriving manufacturing sector in Kenya.
In the dynamic landscape of today's manufacturing sector, Mr Mwangi emphasized the dual importance of technology and skills, highlighting how technological advancements serve as a key driver of industrial development and economic growth. He underscored the essential role of research as a precondition for producing medium-high-tech goods and stressed the need for collaboration between government, academia, and industry. This collaborative approach ensures that research conducted by students is directly aligned with solving real-world challenges faced by the industry, fostering innovation and practical solutions.
KAM Head of Consulting and Business Development, Joyce Njogu, also delivered valuable insights during a panel session that centred on skills development. In addressing this multifaceted challenge, Njogu emphasized the significance of imparting essential skills to young individuals and facilitating continuous skills upgrading within the manufacturing industry.
She underscored the industry's commitment to staying abreast of cutting-edge advancements and preparing the emerging workforce to navigate the evolving demands of the sector. "Getting young people trained in skills and providing skills upgrading within the manufacturing industry is crucial. We are competing to create sustainable jobs and ensure that young people are trained on the latest technology."
The Kenya Industrialization Conference emerges as a significant initiative in shaping the nation's economic landscape, with the contributions of key stakeholders, including government officials, and industry leaders laying the foundation for a more prosperous and globally competitive Kenya.
Looking for elevation? KAM lifts you up.
Direct technical assistance
Capacity building programmes
Networking and mentorship
Industry insights & analysis
Trade & export development services
The Kenya Association of Manufacturers wants your company to live up to its full potential. That's why we provide direct technical assistance and training to growth-oriented manufacturing SMEs, keeping you at the top of your game always.
Join us today, we're at your service.
Search for articles