Kenya Industrialization Conference 2023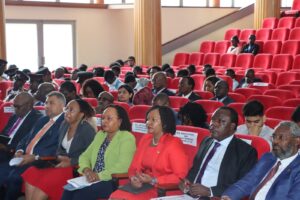 20/11/2023: The inaugural Kenya Industrialization Conference kicked off today with active involvement from KAM. The event, centered around the theme "Accelerating AfCFTA Implementation through Value Chain Integration for Shared Prosperity," has been organized by the State Department for Industry under the Ministry of Investments, Trade, and Industry.
The conference was graced by the Cabinet Secretary, Ministry of Investments, Trade, and Industry, Mrs Rebecca Miano; Chair Council of Governors, H.E Anne Waiguru; Principal Secretary State Department for Industry, Dr Juma Mukhwana; Principal Secretary State Department for Trade, Alfred K'Ombudo among industry leaders and stakeholders.
During the opening ceremony, Mrs Rebecca Miano emphasized that the Kenya Industrialization Conference aligns with Africa Industrialization Day, highlighting the role of the manufacturing sector. She stressed the need for collective efforts to increase production and value addition of locally manufactured goods within strategic value chains, advancing the economic agenda.
Her Excellency Anne Waiguru, Chairperson of the Council of Governors, highlighted the commitment of county governments to the establishment of County Aggregation and Industrial Parks (CAIPs). She stated that, in collaboration with county governments, the Ministry of Investments, Trade, and Industry is developing these parks in all 47 counties. Waiguru emphasized that county governments shall provide guidelines, incentivize investments, streamline approval processes, and facilitate connections with suppliers and relevant bodies, fostering regional development.
Principal Secretary State Department for Industry, Dr Juma Mukhwana emphasized Kenya's ambition to become the manufacturing hub for the entire African continent. The industrialization initiative aims to increase incomes, create employment opportunities, enhance value-added activities, and diversify the economy.
KAM Chair Rajan Shah acknowledged the dynamic changes facing the manufacturing sector due to globalization and technological disruption. He emphasized the need for Kenya to position itself as an industrial hub promoting competitive industries globally. "KAM remains committed to collaborating with the government and other stakeholders, providing strategic advocacy to support the country's transformation into a newly industrialized economy."
Exhibitions are taking place at the University of Nairobi alongside the conference, which will continue until November 22nd, 2023.
Looking for elevation? KAM lifts you up.
Direct technical assistance
Capacity building programmes
Networking and mentorship
Industry insights & analysis
Trade & export development services
The Kenya Association of Manufacturers wants your company to live up to its full potential. That's why we provide direct technical assistance and training to growth-oriented manufacturing SMEs, keeping you at the top of your game always.
Join us today, we're at your service.
Search for articles