KAM Pays Courtesy Call to KRA Commissioner General, Mr Humphrey Wattanga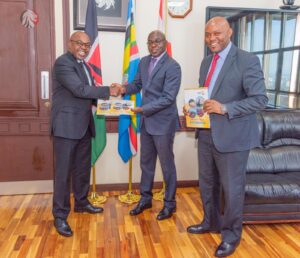 19/9/2023: KAM Chief Executive, Mr Anthony Mwangi, and Head of Policy, Research, and Advocacy, Job Wanjohi, engaged the Kenya Revenue Authority (KRA) Commissioner General, Mr Humphrey Wattanga. The primary objective of this meeting was to introduce KAM and the manufacturing sector, engage in discussions on prevailing fiscal challenges, and explore potential collaboration strategies as the Commissioner General assumes his new role.
During the meeting, it was acknowledged that KRA, on behalf of the Government, holds a significant stake in the success of businesses, being the single largest shareholder in terms of tax revenue collection. Notably, this includes an effective tax rate of over 50% derived from various sources, such as Income Tax, VAT, Miscellaneous Fees and Charges, Customs, among others.
Recognizing the substantial role that both KRA and KAM play in the economic landscape, both organizations agreed to work together as stakeholders not only for individual businesses but also for the broader economy.
The meeting revolved around several key objectives, including introductions, an overview of KAM and the manufacturing sector's current landscape, insights into the Manufacturing Vision 20by30 and its strategies, and discussions on thematic fiscal issues.
Some of the key discussion points included:
-KAM membership, regional distribution, and sectors.
-Manufacturing's significant contribution to GDP (7.8% in 2022), its substantial value of output (Ksh. 3.18 trillion in 2022), and its role as a major employer (352,000 direct jobs in 2022).
-The ambitious Manufacturing Vision 20by30, aiming to increase the manufacturing sector's GDP contribution to 20% by 2030, create one million jobs, and significantly enhance value-added output.
-Thematic fiscal issues, such as immediate VAT refunds, the establishment of a Fund to facilitate VAT refunds, and proposed changes to the Public Finance Management Act.
To facilitate ongoing collaboration, KAM and the KRA Commissioner General agreed to hold quarterly strategic sessions focused on major policy and operational matters pertinent to the manufacturing sector. Moving forward, there are plans for the KRA Commissioner General to meet with KAM's Senior Leadership in October 2023. Additionally, quarterly strategic sessions between the KAM Board and the KRA Commissioner General are scheduled.
Both organizations also aim to conduct a joint analysis of the fiscal measures' impact from the Finance Act 2023, exploring opportunities for fiscal data exchange, joint data analytics, and predictive analysis.
Looking for elevation? KAM lifts you up.
Direct technical assistance
Capacity building programmes
Networking and mentorship
Industry insights & analysis
Trade & export development services
The Kenya Association of Manufacturers wants your company to live up to its full potential. That's why we provide direct technical assistance and training to growth-oriented manufacturing SMEs, keeping you at the top of your game always.
Join us today, we're at your service.
Search for articles