KAM Pays Courtesy Call to KRA Commissioner, Customs and Border Control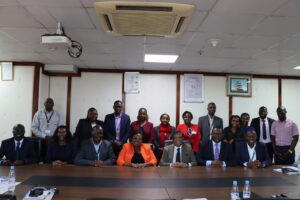 22/08/2023: KAM paid a courtesy call to KRA Commissioner of Customs and Border Control, Ms Pamela Ahago, to deliberate on customs issues affecting the leather and footwear sector.
KAM Deputy Head of Policy, Research and Advocacy, Miriam Bomett highlighted that the leather sector comprises around 26 established manufacturers and roughly 1,786 micro, small, and medium enterprises (MSMEs) operating within its value chain.
"Kenya has a significant potential to develop its leather sector. Currently, it is a KSH 15 billion industry, creating 17,000 jobs (7,000 formal and 10,000 informal). However, it has the potential to grow into a KSH 120 billion industry, creating 100,000 jobs," observed Ms Bomett.
KAM Leather and Footwear Sector Chair, Rao Sambasiva outlined some of the challenges that threaten the sustainability of the sector, including, the shortage of raw hides and skins, tariff code classification, and delayed cargo clearance.
He pointed out a significant aspect of Kenya's leather export landscape noting that around 90% of Kenya's leather exports comprise unfinished products, particularly wet blue leather. He further emphasized the need for efficient cargo clearance processes. This optimization not only fosters growth within the sector but also amplifies Kenya's presence as a significant player in the global arena of leather exports.
KRA Commissioner, Customs and Border Control, Ms Pamela Ahago remarked that KRA is committed to addressing bottlenecks that hinder trade facilitation. This commitment is aimed at enhancing and streamlining the country's progress and development.
Furthermore, she clarified that the issue of Tariff code classification undergoes an annual review due to changes in innovation and the introduction of new products.
Looking for elevation? KAM lifts you up.
Direct technical assistance
Capacity building programmes
Networking and mentorship
Industry insights & analysis
Trade & export development services
The Kenya Association of Manufacturers wants your company to live up to its full potential. That's why we provide direct technical assistance and training to growth-oriented manufacturing SMEs, keeping you at the top of your game always.
Join us today, we're at your service.
Search for articles