KAM Pays Courtesy Call to Director General, KIRDI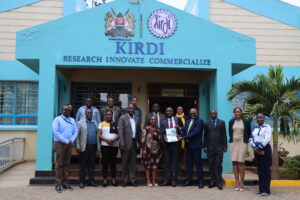 23/08/2023: KAM paid a courtesy call to the Director General of the Kenya Industrial Research and Development Institute (KIRDI) to discuss areas of collaboration and partnership. This initiative aims to drive innovation and promote local manufacturing.
By utilizing KIRDI's expertise, Kenya can boost micro, small, and medium enterprises (MSMEs), enhancing their competitiveness in local, regional, and global markets. KIRDI's knowledge spans various fields including agroprocessing, sustainable green manufacturing, circular economy, renewable energy, textile and industrial chemistry, food and leather technology, equipment design and fabrication, as well as emerging areas like nanotechnology and digital manufacturing.
During the meeting, KAM Chief Executive, Anthony Mwangi, pointed out that it is crucial for our members to aim for global competitiveness. He stated, "MSMEs create 90% of Kenya's job opportunities. We aim to partner with KIRDI to propel the advancement of the Fourth Industrial Revolution, advocate for green manufacturing, and enhance good manufacturing practices. As KAM, we are looking to extend the manufacturing sphere to a broader audience, including those engaged in small-scale manufacturing."
KIRDI Director General, Dr Calvin Onyango emphasized that KIRDI is open to collaborating with MSMEs to enhance manufacturing capabilities, facilitate scale-up, and foster new innovations.
"Our capacity building program equips industrial entrepreneurs with skills to apply findings from industrial research and development. This includes practical training in areas like food, leather, natural products, and textiles. We also provide a shared facility for startup entrepreneurs who lack complete equipment for commercial operations. The entrepreneurs share access to KIRDI's equipment, facilities (water, space and electricity), technical expertise and technologies on pre-arranged schedules." Noted Dr Onyango
Looking for elevation? KAM lifts you up.
Direct technical assistance
Capacity building programmes
Networking and mentorship
Industry insights & analysis
Trade & export development services
The Kenya Association of Manufacturers wants your company to live up to its full potential. That's why we provide direct technical assistance and training to growth-oriented manufacturing SMEs, keeping you at the top of your game always.
Join us today, we're at your service.
Search for articles