KAM pays courtesy call to Competition Authority of Kenya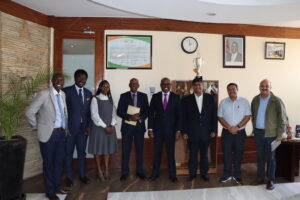 19/06/2023: KAM, in collaboration with the Association of Kenya Suppliers (AKS), paid a courtesy call to the Competition Authority of Kenya (CAK). The purpose of the meeting was to discuss challenges facing manufacturers, including implementation of the Retail Code of Practice, buyer power and regulatory burden, among others.
KAM Chief Executive, Anthony Mwangi recognized that CAK has made significant strides in improving the continuation of business and that consumers enjoy competitive prices, quality goods and services, and wider choices through sustained innovations.
KAM Board Director & Legal and Regulatory Committee Chair, Rajan Malde acknowledged the Association's recognition of the important role CAK plays in enforcing buyer power regulations.
CAK Ag DG, Dr Adano Roba remarked that the Competition Authority of Kenya (CAK) is making amendments to the Retail Code of Practice, as part of its mandate to create competitive markets and enhance consumer prosperity and welfare. "CAK's goal is to ensure that buyers do not abuse their position to the detriment of suppliers and overall market competition," said Dr Roba.
He further added that CAK's administrative powers enable it to investigate alleged cases of buyer power abuse, gather evidence, and impose penalties or remedial measures where necessary.
Looking for elevation? KAM lifts you up.
Direct technical assistance
Capacity building programmes
Networking and mentorship
Industry insights & analysis
Trade & export development services
The Kenya Association of Manufacturers wants your company to live up to its full potential. That's why we provide direct technical assistance and training to growth-oriented manufacturing SMEs, keeping you at the top of your game always.
Join us today, we're at your service.
Search for articles