KAM participates in the Presidential Economic Dialogue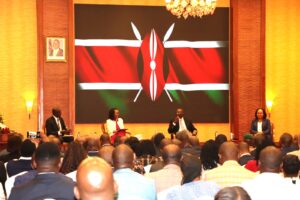 2/06/2023: KAM participated in a Presidential economic dialogue on seven value chains: Textile/Cotton, Pharmaceuticals, Leather, Pyrethrum, Housing, Edible Oils, and Automotives.
During his remarks, HE President William Ruto emphasized on the importance of job creation in the manufacturing sector. "We are looking to partner with the private sector to create opportunities in these value chains. We have singled out 7 value chains that are critical to the growth of our economy," said President Ruto
Cabinet Secretary, Ministry of Investments, Trade and Industry, Hon Moses Kuria stated that the bottom-up economic plan is a shared agenda among the National & County Governments and the private sector. "We are here today to further this cooperation to create jobs, increase income, and enhance productivity. We can achieve great things if we work together," remarked CS Kuria
KAM Chief Executive, Anthony Mwangi made a presentation on the opportunities that exist in these seven values chains, enumerating the aspirations and strategies critical to achieving manufacturing agenda 20 by 30 – 20% contribution to the GDP by 2030.
Kirinyaga County Governor Anne Waiguru observed that counties have had conversations on value chains and are working to ensure whatever is in the government's manifesto in regard to manufacturing and agriculture is realised. She added that, County Governments are partnering with the Ministry of Investments, Trade, and Industry to set up industrial parks in order to drive manufacturing sector growth in the country.
Speaking on the opportunities that exist in the manufacturing sector, KEPSA CEO Ms Carole Kariuki, reiterated that, "Opportunities in different value chains are very clear, the challenge that exists is competitiveness – cost of raw materials, logistics, finance and productivity."
Looking for elevation? KAM lifts you up.
Direct technical assistance
Capacity building programmes
Networking and mentorship
Industry insights & analysis
Trade & export development services
The Kenya Association of Manufacturers wants your company to live up to its full potential. That's why we provide direct technical assistance and training to growth-oriented manufacturing SMEs, keeping you at the top of your game always.
Join us today, we're at your service.
Search for articles