KAM participates in a high-level CEO's Roundtable on climate action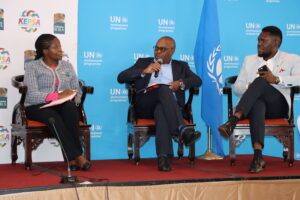 31/07/2023: KAM participated in a CEO's Roundtable co-convened by KEPSA and United Nations Environment Programme (UNEP) Africa. The roundtable provided Kenyan private sector business leaders an opportunity to share their perspectives and thoughts on collaborating with different stakeholders in climate change dialogues. Furthermore, they provided valuable input that could potentially shape the outcomes of the upcoming Africa Climate Summit (ACS23) scheduled for September 2023.
Speaking during the forum, Cabinet Secretary, Ministry of Environment, Hon Soipan Tuya observed that Kenya is taking the lead with an impressive 92% of its energy coming from renewable sources. She added that the country is committed to pushing this progress aggressively to achieve 100% renewable energy.
"The financial sector has acknowledged that addressing global environmental challenges is key to managing risks and ensuring long-term investments. The Sustainable Development Goals (SDGs) reaffirm that growth and development cannot continue without all countries embracing green growth practices." Noted Hon Tuya
During a panel session on emerging trends in climate action and green investments in the manufacturing sector, KAM Chief Executive Anthony Mwangi emphasized the critical importance of climate action for manufacturers. He highlighted that addressing climate challenges is not only crucial for survival but also presents an array of new opportunities for industry growth.
"Over the last 19 years, KAM has been at the forefront of implementing energy efficiency measures within its operations and encouraging member industries to follow suit. Through our consistent efforts, we have successfully hosted 19 editions of the prestigious Energy Management Awards (EMA), recognizing outstanding contributions to energy conservation and sustainability." Said Mr Mwangi.
Additionally, through a strategic partnership with the Kenya Forest Service (KFS), KAM is actively championing an initiative to plant 10 million trees. This initiative is designed to address the issue of degraded forests and foster their rehabilitation.
Looking for elevation? KAM lifts you up.
Direct technical assistance
Capacity building programmes
Networking and mentorship
Industry insights & analysis
Trade & export development services
The Kenya Association of Manufacturers wants your company to live up to its full potential. That's why we provide direct technical assistance and training to growth-oriented manufacturing SMEs, keeping you at the top of your game always.
Join us today, we're at your service.
Search for articles