KAM, NSE Sign Memorandum of Understanding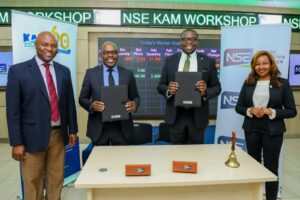 30/08/2023: KAM and Nairobi Securities Exchange (NSE) signed a Memorandum of Understanding (MoU). This MoU establishes a framework for mutual cooperation, recognizing the value of promoting collaboration to enhance access to finance for Small and Medium-sized Enterprises (SMEs) in the capital markets, foster job creation, and stimulate economic growth.
KAM and NSE are committed to collaborating on various fronts. This includes, selecting eligible SME members of KAM for fundraising on NSE's private market platforms, jointly organizing investor readiness initiatives, facilitating successful fundraising for KAM SMEs on NSE's platforms, and leveraging NSE's fundraising and listing infrastructure to support non-SME KAM members with equity and debt transactions.
During the ceremony, KAM Chief Executive Anthony Mwangi reaffirmed the association's commitment to assisting SMEs in scaling up and accessing finance for business growth and expansion. He stated, "The nation's growth hinges on SMEs being elevated to the next level. As you work on advancing your businesses, I urge you to actively engage and utilize the resources available on the NSE platform."
NSE Chief Executive Geoffrey Odundo highlighted the significance of participating in the NSE Connect program for SMEs. He explained, "Our partnership aims to help you achieve two primary objectives; firstly, raising capital effectively, and secondly, determining your business's valuation."
Mr Odundo also emphasized that investors are willing to invest in small businesses, provided they maintain strong corporate governance. He elaborated, "This collaboration with KAM is integrated within our private market platform, NSE Connect, which falls under the umbrella of the Ibuka program. By joining, you gain the advantage of accessing company valuation services and enhancing your visibility among potential financiers in the market."
Looking for elevation? KAM lifts you up.
Direct technical assistance
Capacity building programmes
Networking and mentorship
Industry insights & analysis
Trade & export development services
The Kenya Association of Manufacturers wants your company to live up to its full potential. That's why we provide direct technical assistance and training to growth-oriented manufacturing SMEs, keeping you at the top of your game always.
Join us today, we're at your service.
Search for articles