KAM, IDH host breakfast meeting for Industrial Parks collaboration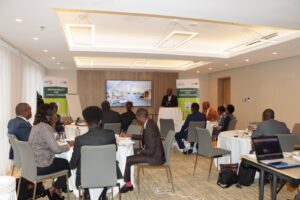 27/06/2023: Earlier this year, KAM and IDH partnered to enhance the competitiveness of Kenya's Textile and Apparel Industry. As part of this collaboration, we organized a breakfast forum centered around this strategic partnership, primarily highlighting areas of support and collaboration as government rolls-out establishment of Industrial Parks.
Speaking during the meeting, Principal Secretary, State Department for Industry, Dr Juma Mukhwana highlighted that the Government under the Bottom-Up Transformation Agenda acknowledges the significant contributions of the agriculture and manufacturing sectors in terms of generating income, wealth, and creating employment opportunities. "The government has prioritized the Textile and Apparel sector as a key driver of job creation, export development, forex exchange, and industrialization"
"We have identified 24 counties where cotton cultivation is possible. However, the main obstacle lies in the process of ginning. To address this issue, we are collaborating with the private sector to explore the feasibility of establishing ginneries," noted Dr Mukhwana.
KAM Chief Executive, Anthony Mwangi observed that with the rise of Environmental, Social and Governance (ESG) framework, organizations are increasingly becoming conscious of their impact in society, and as such are more focused on ensuring this impact remains positive and sustainable. "As an Association, we acknowledge that the role of the manufacturing sector in promoting sustainability lies in the adoption of policies, frameworks and practices that result in greater impact and value in the long-term."
IDH Global Director (Textile & Manufacturing), Pramit Chanda observed that sustainability is everyone's responsibility. "Our collaboration with KAM holds great significance. By working together, we shall build an inclusive and sustainable supply chain in the Textile and Apparel sector. We consider industrial parks as a vital catalyst on multiple fronts. They serve as dynamic hubs that bring together diverse industries, creating a synergy that promotes innovation, productivity, and collaboration."
Looking for elevation? KAM lifts you up.
Direct technical assistance
Capacity building programmes
Networking and mentorship
Industry insights & analysis
Trade & export development services
The Kenya Association of Manufacturers wants your company to live up to its full potential. That's why we provide direct technical assistance and training to growth-oriented manufacturing SMEs, keeping you at the top of your game always.
Join us today, we're at your service.
Search for articles