KAM Hosts South Rift Region Members' Forum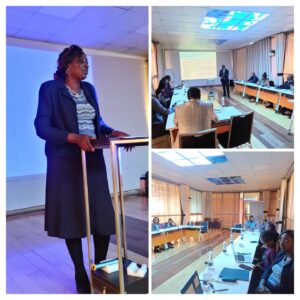 12/10/2023: The South Rift region hosted its Members' Forum, where key issues were discussed, including the Government's tax proposal for 2024/2025 and opportunities and risk management for KAM Members.
The Regional Manager of Kenya Industrial Estates enlightened the attendees about various financial opportunities available. These opportunities include credit facilities, top-up loan facilities, buy-offs from commercial banks, and group guarantees tailored for manufacturers and value addition industries. They provide loans ranging from Kshs 100,000 to 21 million, with repayment periods spanning from 1 to 5 years, all at a 10% interest rate.
Additionally, the Regional Chairlady, Ms Peris Mbuthia shared the significant milestones achieved by the region and the ongoing advocacy efforts aimed at ensuring a conducive business environment.
Looking for elevation? KAM lifts you up.
Direct technical assistance
Capacity building programmes
Networking and mentorship
Industry insights & analysis
Trade & export development services
The Kenya Association of Manufacturers wants your company to live up to its full potential. That's why we provide direct technical assistance and training to growth-oriented manufacturing SMEs, keeping you at the top of your game always.
Join us today, we're at your service.
Search for articles