KAM Hosts Central Region Members' Forum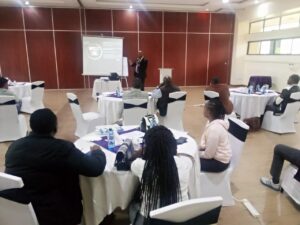 5/09/2023: KAM hosted an open forum for Central Region Members to discuss various issues affecting manufacturers in the region. This event reaffirms the association's commitment to facilitating and addressing issues impacting manufacturers, while also highlighting opportunities within the region and beyond.
The Central Region Chair, Mr Maina Ruo acknowledged and appreciated the effort of all members in fostering manufacturing growth in the region and the nation as a whole. He expressed his gratitude to the KAM Secretariat for their ongoing efforts in coordinating with both county and national governments on matters significant to the members.
KAM Head of Policy Research and Advocacy, Job Wanjohi emphasized that the manufacturing sector holds the key to the country's development. He stated, "KAM is actively collaborating with the government to enhance the competitiveness of this sector. Together, we are working towards realizing the vision of achieving robust manufacturing growth by the year 2030." He also stressed the importance of utilizing DRS services, which is an incentive granted to manufacturers who import industrial inputs and raw materials for the production of goods. Through the Duty Remission Scheme, manufacturers can import raw materials and inputs for the manufacture of products at 0% duty.
Looking for elevation? KAM lifts you up.
Direct technical assistance
Capacity building programmes
Networking and mentorship
Industry insights & analysis
Trade & export development services
The Kenya Association of Manufacturers wants your company to live up to its full potential. That's why we provide direct technical assistance and training to growth-oriented manufacturing SMEs, keeping you at the top of your game always.
Join us today, we're at your service.
Search for articles