Clean Energy Conference and Expo: Towards a Low Carbon Future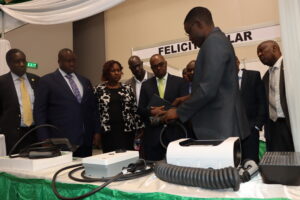 27/9/2023: KAM, through the Centre for Energy Efficiency and Conservation (CEEC), held the 9th Clean Energy Conference and Expo at the Sarit Expo Centre.
The Expo and Conference, sought to shape the clean energy agenda in the country. Additionally, it provided a platform for clean energy technology providers to showcase their solutions and for energy stakeholders to chart a path toward a better, cleaner, and more sustainable future.
Speaking during the conference, David Mutisya, Director of Renewable Energy at the Ministry of Energy and Petroleum, highlighted that in collaboration with the Ministry of Energy and Petroleum, KAM established the Centre for Energy Efficiency and Conservation (CEEC) in 2006. The support provided to CEEC empowers KAM to advocate for energy efficiency.
He also mentioned that the National Energy Policy (2018) and the Bioenergy Strategy (2020) serve as the primary policy and strategy instruments to promote clean cooking in Kenya. Additionally, a Clean Cooking Strategy and Action Plan are currently under development to provide a detailed roadmap towards achieving universal access to clean cooking by 2030.
Director General EPRA, Daniel Kiptoo emphasized the significant efforts underway to realize Kenya's cleaner, greener, and more sustainable future, with a particular focus on initiatives promoting e-mobility and clean cooking. "The government has issued a directive to implement reticulated Liquefied Petroleum Gas (LPG) systems in schools nationwide, a crucial step toward encouraging clean cooking practices. Furthermore, in April 2023, EPRA approved a new tariff structure for the fourth Tariff Control Period (2022/23 to 2025/26), introducing a special e-mobility tariff to drive the growth of electric mobility."
KAM Chief Executive Anthony Mwangi highlighted the vital role of energy efficiency in achieving a low-carbon future, driving competitiveness, and fostering technological innovations. He emphasized that the industry is actively transitioning towards green and sustainable manufacturing, with a focus on captive solar, energy and water efficiency, circular economy practices, and monitoring carbon emissions. Furthermore, KAM joined other private sector organizations in signing the Africa Private Sector Commitment to combat climate change.
We also held a panel discussion on green manufacturing initiatives adopted by industry towards a low carbon future where ideas, insights, and knowledge were exchanged.
Looking for elevation? KAM lifts you up.
Direct technical assistance
Capacity building programmes
Networking and mentorship
Industry insights & analysis
Trade & export development services
The Kenya Association of Manufacturers wants your company to live up to its full potential. That's why we provide direct technical assistance and training to growth-oriented manufacturing SMEs, keeping you at the top of your game always.
Join us today, we're at your service.
Search for articles