KAM Hosts 62nd Annual General Meeting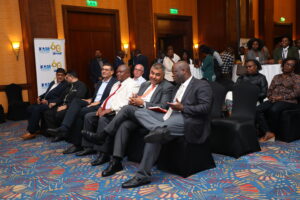 16th June 2023: KAM held its 62nd Annual General Meeting (AGM) and Members' Cocktail at Nairobi Serena Hotel where the Association and its members reflected on last year's activities and our aspirations for the future.
Speaking at the AGM, KAM Chairperson, Mr Rajan Shah, informed members that the Association remained steadfast in 2022 in realizing its vision to drive the competitiveness and productivity of local industry, despite the slowdown experienced due to the General Elections and disruption of global supply chains.
He also noted that this would not have been possible without members' confidence and support, adding, "Our focus, as an Association, remains on you, our members. We strive to provide you with exemplary services to enable you to operate in a conducive business environment and steer you to profitability and sustainability."
He further informed members that KAM is keen to see the manufacturing sector play a central role in Kenya's aspirations to drive inclusive economic development, both at the national and county levels. "We have been working hand in hand with Government Ministries, Departments and Agencies to establish collaborative working structures and development of cohesive policy and regulatory frameworks that will bring us closer to our intended goals," noted Mr Shah.
KAM Chief Executive, Mr Anthony Mwangi presented the 2022 achievements including engaging the President and Deputy President of Kenya, H.E. Dr William Ruto and H.E. Rigathi Gachagua, respectively, on Kenya Manufacturing 20by30 Strategy. He also presented KAM's focus areas to increase manufacturing sector contribution from 7.8% in 2022 to 20% by 2030, namely Global Competitiveness; Export-led Growth; SME Development; and Agriculture for Industry.
The AGM Members' Cocktail was graced by the Principal Secretary for Trade, Mr Alfred K'Ombudo, who informed members that the government is keen on partnering with local industries in driving manufacturing sector growth. He also called for stronger partnerships with manufacturing in identifying new markets and providing members with relevant information to venture into such markets, adding, "The State Department for Trade aims to support local industries in accessing local, regional, and international markets. We are reforming the foreign trade commercial service to support local industries to access export markets."
The event was sponsored by Plenser Limited.
Looking for elevation? KAM lifts you up.
Direct technical assistance
Capacity building programmes
Networking and mentorship
Industry insights & analysis
Trade & export development services
The Kenya Association of Manufacturers wants your company to live up to its full potential. That's why we provide direct technical assistance and training to growth-oriented manufacturing SMEs, keeping you at the top of your game always.
Join us today, we're at your service.
Search for articles