KAM, GIZ host Workhsop on ESG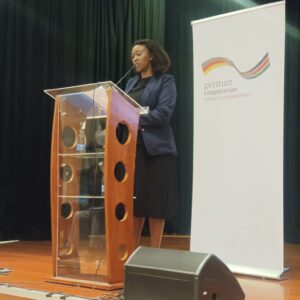 26/10/2023: In a collaborative effort to drive sustainable business practices in Kenya, the Kenya Association of Manufacturers (KAM) and GIZ organized a workshop centered on ESG (Environmental, Social, and Governance) principles. The workshop served as a platform for Kenyan businesses to learn about the importance of ESG principles and how they can integrate them into their supply chain operations.
During the workshop, industry experts and thought leaders shared valuable insights, best practices, and case studies, illustrating the tangible benefits of adopting sustainable supply chain practices. Participants gained knowledge on reducing environmental impact, ensuring fair labor practices, enhancing corporate governance, and fostering social responsibility within their organizations.
The event emphasized the significance of conscientiousness towards sustainable supply chain operations. By encouraging businesses to adopt ethical and sustainable practices, KAM and GIZ aimed to not only benefit the environment but also contribute to the overall well-being of society. Participants were encouraged to engage in discussions, ask questions, and explore practical approaches to implementing ESG principles tailored to the Kenyan business context.
Looking for elevation? KAM lifts you up.
Direct technical assistance
Capacity building programmes
Networking and mentorship
Industry insights & analysis
Trade & export development services
The Kenya Association of Manufacturers wants your company to live up to its full potential. That's why we provide direct technical assistance and training to growth-oriented manufacturing SMEs, keeping you at the top of your game always.
Join us today, we're at your service.
Search for articles