KAM engages Principal Secretary, State Department for Industry on FY 2023/2024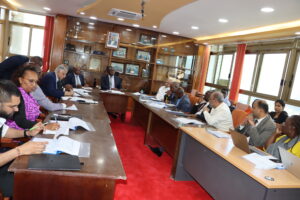 15/09/2023: In pursuit of our advocacy mandate, we engaged Dr Juma Mukhwana, the Principal Secretary, State Department for Industry, to discuss issues potentially impacting the manufacturing sector in the Financial Year (FY) 2023/2024. Our objective was to address the impact and chart a way forward to enhance competitiveness within the manufacturing sector, as we strive to grow the economy.
The issues deliberated on encompassed the introduction of new levies (export and investment promotion levy) and amendments to various tax rates for items such as excise duty rates, export levy rates, and the import declaration fee, which manufacturers believe may have a negative impact on the manufacturing sector.
We also presented recommendations, including a joint verification mission involving government and private sector representatives. This mission aims to address issues and ensure an adequate supply to meet local demand without compromising quality, ideally before any changes in tax rates.
Additionally, we proposed relief measures for the Export and Investment Promotion Levy, including refunds for raw materials and inputs when they are used in finished goods that are exported. We also suggested reducing excise duties on materials imported for re-export and allowing offset upon export.
Lastly, we recommended a lower Import Declaration Fee (IDF) rate of 1.5% for manufacturers importing raw materials and intermediate inputs. These measures aim to boost the manufacturing sector's contribution to the country's GDP, reduce dependence on imported products, and save foreign exchange reserves.
Looking for elevation? KAM lifts you up.
Direct technical assistance
Capacity building programmes
Networking and mentorship
Industry insights & analysis
Trade & export development services
The Kenya Association of Manufacturers wants your company to live up to its full potential. That's why we provide direct technical assistance and training to growth-oriented manufacturing SMEs, keeping you at the top of your game always.
Join us today, we're at your service.
Search for articles