KAM engages Parliamentary Delegated Legislation Committee on the price of EGMS stamps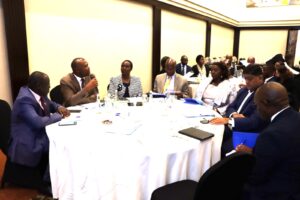 15/06/2023: KAM and various industry players in the beverage & cosmetics sub-sectors engaged the Parliamentary Delegated Legislation Committee regarding the impact of the Excise Duty (Excise Goods Management System) (Amendment) regulations 2023 on businesses. This notice essentially raises the fees for excise stamps on various products, including bottled water, juices, non-alcoholic beverages, cosmetics, alcoholic drinks, tobacco and nicotine items, as well as export goods.
The excise stamp, known as the EGMS stamp, is a tool used to ensure revenue protection by deterring counterfeiting, ensuring traceability of excisable goods throughout the supply chain, facilitating accurate accounting of manufactured or imported excisable goods, and enabling verification of the stamps and excisable goods by anyone involved in the supply chain.
During the discussions, KAM expressed concerns about the potential impact of implementing the EGMS stamps. They raised issues related to governance, costs and competitiveness.
The increased EGMS stamps fees up to levels of over 100% and beyond the current market costs of producing the stamps shall have a detrimental effect on consumers and manufacturers due to increased cost of production and the cost of finished products. Unfortunately, this will be passed on to the consumer amidst the rising cost of living.
Among the proposals put forward was the need to enhance tax predictability in order to stimulate investment and economic growth. "Predictable tax policies instill confidence in investors, leading to increased local and foreign investments. Sudden changes in fiscal policies and regulations force industries to divert their resources from productive activities to meet the costs associated with complying with the new requirements in a timely manner," noted KAM Chief Executive, Anthony Mwangi
The Parliamentary Delegated Legislation Committee acknowledged manufacturers' concerns and assured us that they would thoroughly assess issues raised including the contract awarding procedure to companies producing Excise stamps in order to close any existing loopholes.
Looking for elevation? KAM lifts you up.
Direct technical assistance
Capacity building programmes
Networking and mentorship
Industry insights & analysis
Trade & export development services
The Kenya Association of Manufacturers wants your company to live up to its full potential. That's why we provide direct technical assistance and training to growth-oriented manufacturing SMEs, keeping you at the top of your game always.
Join us today, we're at your service.
Search for articles