KAM Engages Kiambu County Governor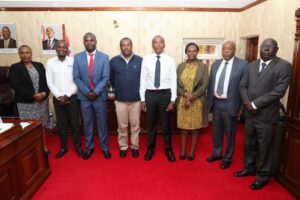 17/11/2023: The KAM Central Region Chair, Maina Ruo, took the lead in representing the Kenya Association of Manufacturers (KAM) during a follow-up meeting with the Kiambu County Governor, Hon. Kimani Wamatangi. This meeting was part of KAM's ongoing efforts to monitor and enhance collaborations with manufacturers in Kiambu County. The initiative aimed to track the progress made since the previous meeting held in November 2022, with KAM expressing a keen interest in acknowledging any developmental strides achieved in the interim.
The meeting underscored the crucial role KAM plays in realizing the manufacturing agenda 20BY30. This agenda presumably outlines key objectives and milestones for the manufacturing sector to achieve by the year 2030.
Also in attendance was the County Executive Committee Members (CECMs) responsible for Trade, Industrialization, Tourism, Investments, as well as Lands, Physical Planning, and Urban Development.
During the deliberations, a range of member issues was addressed, suggesting a collaborative effort to identify and resolve challenges faced by manufacturers in Kiambu County. The engagement reflected a commitment to fostering a conducive business environment and promoting sustainable development within the region.
Looking for elevation? KAM lifts you up.
Direct technical assistance
Capacity building programmes
Networking and mentorship
Industry insights & analysis
Trade & export development services
The Kenya Association of Manufacturers wants your company to live up to its full potential. That's why we provide direct technical assistance and training to growth-oriented manufacturing SMEs, keeping you at the top of your game always.
Join us today, we're at your service.
Search for articles