KAM Energy, Electricals, and Electronics Sector Players engage PS Industry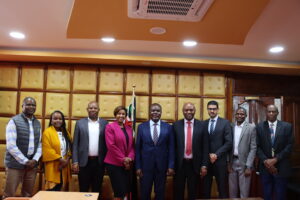 7/08/2023: The Energy, Electricals, and Electronics sector at KAM encompasses 100 industries, spread across power generation, petroleum, oil, gas, electricals, and electronics.
KAM along with other Energy, Electricals, and Electronics sector players paid a courtesy call to the Principal Secretary (PS) State Department for Industry, Dr Juma Mukhwana to discuss the current status of the sector, challenges it is facing, as well as recommendations to support its competitiveness.
KAM Head of Policy, Research and Advocacy, Job Wanjohi highlighted the potential of the Energy, Electricals, and Electronics sector to boost the country's manufacturing contribution to the GDP to 20% by 2030. "By providing specific industry solutions like cold-rooms, this sector can enhance productivity in various economic sectors like agriculture, pharmaceuticals, and chemical manufacturing."
Mr Wanjohi emphasized that realizing the full potential of this sector requires the implementation of industry-centric policies, financial support, foreign direct investment (FDI), and appropriate regulatory frameworks.
In order to combat counterfeiting, PS State Department for Industry, Dr. Mukhwana proposed the need for joint capacity building with the Anti-Counterfeit Authority, particularly to address illicit trade challenges faced by the electronic and electrical industry.
He added that the government plans to lead discussions to introduce East African Community (EAC)-wide tariff proposals relating to electrical items, with the aim of enhancing the industry's competitiveness at both regional and continental levels.
Looking for elevation? KAM lifts you up.
Direct technical assistance
Capacity building programmes
Networking and mentorship
Industry insights & analysis
Trade & export development services
The Kenya Association of Manufacturers wants your company to live up to its full potential. That's why we provide direct technical assistance and training to growth-oriented manufacturing SMEs, keeping you at the top of your game always.
Join us today, we're at your service.
Search for articles