KAM Chief Executive Meets CS MITI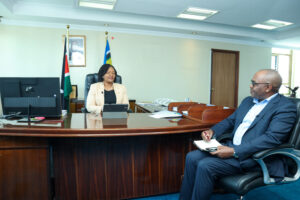 24/10/2023: KAM Chief Executive Anthony Mwangi had the privilege of briefing the Cabinet Secretary, Ministry of Investments, Trade, and Industry, Mrs Rebecca Miano about the Kenya Industrialization Conference, which is jointly organized by the State Department for Industry and KAM. This significant event is scheduled to take place from November 20th to 22nd, 2023, at the University of Nairobi (UoN). The event's Chief Guest will be H.E. the President.
The conference shall provide a platform for the country to reflect upon and gain valuable lessons from its own industrialization journey in comparison to other nations. By examining successes and challenges, the conference aims to facilitate insightful discussions, foster knowledge exchange, and inspire innovative strategies. Through this collective learning experience, attendees will gain a deeper understanding of industrialization processes, enabling them to contribute effectively to the nation's economic growth and sustainable development.
He also briefed her about the Changamka Shopping Festival, an event scheduled to take place from October 31st to November 4th, 2023, at KICC Nairobi. Changamka Festival offers manufacturers an opportunity to showcase the quality and diversity of locally manufactured goods made for local, regional, and international markets, besides being able to meet their customers and sell their goods. It also gives an opportunity to customers to purchase various products right from the manufacturers at a discounted price.
Looking for elevation? KAM lifts you up.
Direct technical assistance
Capacity building programmes
Networking and mentorship
Industry insights & analysis
Trade & export development services
The Kenya Association of Manufacturers wants your company to live up to its full potential. That's why we provide direct technical assistance and training to growth-oriented manufacturing SMEs, keeping you at the top of your game always.
Join us today, we're at your service.
Search for articles