KAM, PS Investments Visit PG Bison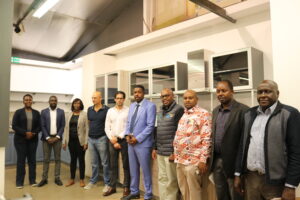 10/6/2023: KAM remains steadfast in its efforts to engage government on how to create a conducive environment for businesses to thrive and stay competitive.
KAM Chief Executive, Anthony Mwangi alongside the Principal Secretary, State Department for Investments, Abubakar Hassan Abubakar, visited one of our members, PG Bison, to engage in discussions and gain insights into the challenges encountered by the company and the broader timber sector.
During our discussions, we thoroughly explored the challenges encountered by PG Bison and the wood and furniture sub-sectors. In-depth conversations were held, covering various issues such as the introduction of a 25% excise duty on PVC and paper products, along with an Export Development Levy on construction raw materials. Additionally, duties on particleboard (PB) and Medium-Density Fiberboard (MDF) were increased from 25% to 35%. These excise taxes have significantly impacted production costs, leading to a price increase in locally manufactured furniture.
We also explored potential solutions to address these challenges, recognizing the significance of collaborative efforts. The unwavering commitment demonstrated by the Principal Secretary reassures us that positive changes are on the horizon. KAM remains dedicated to its advocacy efforts, fostering a vibrant and competitive business environment in collaboration with the government.
Looking for elevation? KAM lifts you up.
Direct technical assistance
Capacity building programmes
Networking and mentorship
Industry insights & analysis
Trade & export development services
The Kenya Association of Manufacturers wants your company to live up to its full potential. That's why we provide direct technical assistance and training to growth-oriented manufacturing SMEs, keeping you at the top of your game always.
Join us today, we're at your service.
Search for articles