Industry Insights from the Africa Climate Summit 2023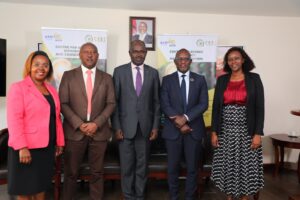 3/10/2023: KAM hosted a webinar that sought to unpack the Africa Climate Summit 2023 Nairobi Declaration for Industries.
During the Africa Climate Summit held in September, we joined other private sector organizations in the country in signing the Africa Private Sector Commitment to combat climate change. The commitment acknowledges the importance of collaboration between the private and public sectors in achieving the shared goal of building climate action for resilience and green growth
Speaking during the session, KAM Head of Consulting & Business Development, Joyce Njogu, noted that the global manufacturing landscape is undergoing profound transformation. This is characterized by technological innovations geared towards process efficiency and resource recovery, use of alternative clean energy sources, impact-centred global agreements and policies, and responsible production and consumption as we shift to a circular economy.
Also present was KAM Environment & Sustainability Committee Chair, Martin Ochien'g who reiterated the Association's commitment to championing sustainability within the manufacturing sector. This is through actively encouraging our members to adopt comprehensive national green growth strategies aimed at reducing our environmental footprints and turning this into a new competitive advantage.
Kenya Bankers Association CEO, Dr. Habil Olaka, also appreciated the role the manufacturing sector plays in advancing Africa. He added that the banking sector is committed to promoting green manufacturing and the development of a circular economy. Where there is innovation, the banking sector continues to explore new financing mechanisms to enhance investments within the renewable energy sector in the country.
David Mutisya, from the Directorate of Renewable Energy at the Ministry of Energy and Petroleum, also added that the recently held Africa Climate Summit was indeed an eye opener that Africans are now ready to discuss the issue of climate change and collaborate on solutions around it. During the Summit, participants acknowledged that climate change is one of the greatest challenges facing the world currently, and if not urgently addressed, will have ripple & devastating effects on all of us.
Looking for elevation? KAM lifts you up.
Direct technical assistance
Capacity building programmes
Networking and mentorship
Industry insights & analysis
Trade & export development services
The Kenya Association of Manufacturers wants your company to live up to its full potential. That's why we provide direct technical assistance and training to growth-oriented manufacturing SMEs, keeping you at the top of your game always.
Join us today, we're at your service.
Search for articles