Fostering Specialized Training in Leather Production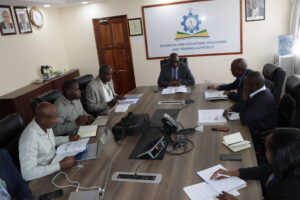 17/10/2023: The government through the Bottom-Up Economic Transformation Agenda (BETA) has identified leather as a priority value chain. The sector has the potential to create 100,000 jobs from the current 17,000 jobs over the next five years and can create 100B worth of value from the current 15B.
KAM paid a courtesy visit to the Technical and Vocational Education and Training Authority (TVETA) to explore potential areas of partnership concerning skills development within the leather value chain. TVETA is a public corporate agency responsible for regulating and coordinating training initiatives in the country. This includes licensing, registration, and accreditation of programs, institutions, and trainers.
During our discussions, we explored various issues, highlighting key technical skills challenges, and discussed recommendations on how we can partner to enhance skills development in the leather value chain. Some of these challenges include poor skills and inappropriate production technology, lack of soft skills among TVET graduates, and the need for innovation in the development of new leather goods products to meet both domestic and international market standards.
KAM Chief Executive Anthony Mwangi pointed out that 90% of skins and hides are damaged during slaughter due to a lack of skills. To address this issue, KAM is actively seeking partnerships with institutions to teach people proper flaying techniques, thereby preserving this valuable chain of production.
As part of our recommendations, KAM Chief Executive emphasized the need to enhance the capacity of training institutions. "By bolstering these institutions, we can provide not only adequate and appropriate skills training but also develop tailored curriculums and training programs specifically focused on leather products. This approach will not only preserve the quality of raw materials but also enable the gradual buildup of skills necessary for employment and livelihood generation in the leather industry." Noted Mr Mwangi
TVETA Director General Kipkirui Langat emphasized the importance of competence-based training, stressing the need to reduce dependence on the importation of finished leather products and enhance value addition to our leather industry. He added that TVETA has developed a comprehensive curriculum for the leather sector, focusing on both leather technology and leather goods production. This strategic initiative aims to empower aspiring professionals with the necessary skills and knowledge, fostering a self-reliant and thriving leather industry within the country.
Looking for elevation? KAM lifts you up.
Direct technical assistance
Capacity building programmes
Networking and mentorship
Industry insights & analysis
Trade & export development services
The Kenya Association of Manufacturers wants your company to live up to its full potential. That's why we provide direct technical assistance and training to growth-oriented manufacturing SMEs, keeping you at the top of your game always.
Join us today, we're at your service.
Search for articles