Export-Led Growth in Manufacturing: Nurturing Value Chains for Competitiveness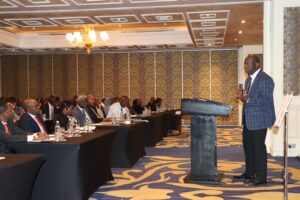 31/08/2023: KAM and the State Department for Trade, led by PS Alfred K'Ombudo, held a joint session today on export development and the promotion of key value chains.
These sector deep dives hold significance since fostering growth through exports stands as a fundamental pillar within KAM's Manufacturing Priority Agenda (MPA) 2023, and Business Development Plan.
Among the sectors covered are Food and Beverage, Leather and Footwear, Timber, Wood and Furniture, Textile and Apparel, Automotive, Building, Mining and Construction, Pharmaceuticals, and Paper and Paperboard.
Speaking during the forum, PS State Department for Trade, Alfred K'Ombudo highlighted the importance of engaging in conversations spanning diverse sectors. He stated, "Staff members within the State Department for Trade have been assigned to specific value chains to comprehend policy-related matters. Additionally, we aim to harness the research conducted by the private sector to gain insights into challenges affecting different sectors."
KAM Chief Executive Anthony Mwangi remarked that these engagements aim to outline the opportunities and solutions to barriers that hinder the growth of the sectors. The goal is to accelerate Kenya's Vision 2030 targets, with the manufacturing sector contributing 20% to the GDP by 2030, creating an additional one million jobs, and enhancing the value-added output from the current USD 8.5 billion to USD 50 billion within the same time period.
Looking for elevation? KAM lifts you up.
Direct technical assistance
Capacity building programmes
Networking and mentorship
Industry insights & analysis
Trade & export development services
The Kenya Association of Manufacturers wants your company to live up to its full potential. That's why we provide direct technical assistance and training to growth-oriented manufacturing SMEs, keeping you at the top of your game always.
Join us today, we're at your service.
Search for articles