Enhancing Employment Opportunities for TVET Graduates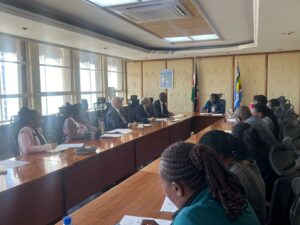 16/10/2023: In an effort to bridge the gap between education and employment, KAM attended a Private Sector Engagement Meeting hosted by Principal Secretary State Department for Technical and Vocational Education and Training (TVET) Dr Esther Muoria.
A key focus was on exploring innovative ways to enhance the employability of TVET graduates. Discussions revolved around aligning the curriculum with industry needs, providing relevant skill development programs, and understanding the demands of the modern job market.
The meeting sought to create opportunities for TVET graduates within the private sector. This included exploring internship programs, apprenticeships, and employment avenues, ensuring that the skills acquired through TVET programs directly translate into meaningful careers.
By fostering collaboration and nurturing talent, KAM is committed to building a brighter future for TVET graduates, empowering them with the skills and knowledge needed to excel in their chosen careers.
Looking for elevation? KAM lifts you up.
Direct technical assistance
Capacity building programmes
Networking and mentorship
Industry insights & analysis
Trade & export development services
The Kenya Association of Manufacturers wants your company to live up to its full potential. That's why we provide direct technical assistance and training to growth-oriented manufacturing SMEs, keeping you at the top of your game always.
Join us today, we're at your service.
Search for articles