Courtesy Call from East African Community Delegation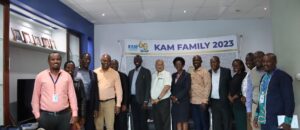 22/9/2023: A delegation from the East African Community (EAC) Secretariat and the Ministry of EAC paid a courtesy call to KAM to deliberate on EAC regional integration issues and introduce the new Deputy Secretary-General, Ms Annette Ssemuwemba.
The discussions centered around key issues, including time-bound closure on Non-Tariff Barriers (NTBs), a review of EAC rules of origin, and policy alignments aimed at realising a common market.
KAM Head of Policy Research and Advocacy, Job Wanjohi emphasized the association's focus pillars. These include a strong commitment to enhancing Global Competitiveness by harmonizing domestic taxes and standards within the East African Community (EAC), promoting Export-Led Growth to boost competitiveness in both regional and international markets, and exploring ways to integrate farming and industry to utilize the agricultural sector as a key source of raw materials for industrial growth. These pillars reflect KAM's dedication to fostering economic advancement and industrial development in Kenya.
KAM Tax and Trade Committee Chair, Mr Bharat Shah, affirmed that EAC has indeed delivered for Kenyan manufacturers. However, he pointed out that periodic market access issues such as discriminatory taxes, technical barriers to trade and non-tariff barriers continue to stifle free flow of goods within the EAC.
The EAC delegation reaffirmed its commitment to ensuring the manufacturing sector operates efficiently, thereby contributing to the region's economic growth. Specifically addressing certain issues, it was acknowledged that Rules of Origin have long been a contentious matter, challenges were encountered in the implementation of tariffs on 8 pharmaceutical molecules and Chapter 15 of the rules, particularly concerning edible oils. As a result, there is a proposal for another review in due course.
Ms Ssemuwemba, in her observations during introductory engagements with various countries in the East African Community (EAC), noted that the issues raised across the region share similarities and predominantly revolve around addressing trade barriers. While acknowledging the significant progress made by the EAC, she emphasized the importance of not underestimating critical issues such as Non-Tariff Barriers (NTBs). She expressed her commitment to actively engage, collaborate, and work closely with stakeholders and the Secretariat to expedite the resolution of these issues.
Looking for elevation? KAM lifts you up.
Direct technical assistance
Capacity building programmes
Networking and mentorship
Industry insights & analysis
Trade & export development services
The Kenya Association of Manufacturers wants your company to live up to its full potential. That's why we provide direct technical assistance and training to growth-oriented manufacturing SMEs, keeping you at the top of your game always.
Join us today, we're at your service.
Search for articles