Changamka Shopping Festival Nairobi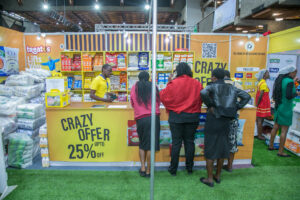 31/10/2023: The Changamka Shopping Festival kicked off on Tuesday, 31st October 2023, and run until Saturday, 4th November 2023. The opening ceremony was graced by the Principal Secretary, State Department for Industry, Dr Juma Mukhwana, and Nairobi Trade CECM Ms Maureen Njeri.
The festival sought to showcase high-quality locally manufactured products, aiming to celebrate the sector's ingenuity and promote the Buy Kenya Build Kenya initiative.
Speaking during the opening ceremony, Principal Secretary State Department for Industry, Dr Juma Mukhwana highlighted the current state of industrialization in Africa, pointing out that the continent only manufactures 3% of all globally available goods despite its population of 1.3 billion. He underscored the substantial consumption of manufactured goods in Africa and the immense potential for growth.
Further, he reiterated the economic impact of importing goods, stating that every imported product equates to exporting a job. Dr Mukhwana emphasized the need to create more jobs locally by minimizing imports, thereby boosting the domestic economy.
KAM Chair Rajan Shah noted that as manufacturers, "we have an ambitious goal: to increase the manufacturing sector's contribution to GDP from the current 7.8% to 20% by 2030."
"The Changamka Festival is part of KAM's initiative to drive the country's economic growth and increase the consumption of locally manufactured goods. Local industries continue to innovate and create new products. All Kenyans should consume and promote locally manufactured goods. We need to ensure that we create a brand for Kenyan-made products," noted Mr Shah.
KAM Chief Executive Anthony Mwangi also echoed the sentiments and pointed out that the uniqueness of this expo is that all products being exhibited/showcased here are made in Kenya.
This year's edition is sponsored by the Ministry of Investments Trade and Industry, Kenya Breweries Limited, GIZ – support provided on behalf of the Republic of Finland and the Federal Republic of Germany, NCBA Bank, KCB Bank, Ecobank Limited, Smart Expo, Integral Media, National Treasury through COMESA RIIP, Nairobi City County, and Amonex Enterprise Limited.
Looking for elevation? KAM lifts you up.
Direct technical assistance
Capacity building programmes
Networking and mentorship
Industry insights & analysis
Trade & export development services
The Kenya Association of Manufacturers wants your company to live up to its full potential. That's why we provide direct technical assistance and training to growth-oriented manufacturing SMEs, keeping you at the top of your game always.
Join us today, we're at your service.
Search for articles