Africa Climate Summit: Driving Climate Action Forward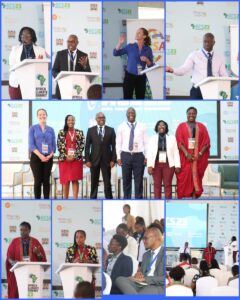 6/09/2023: In our relentless pursuit of championing green manufacturing, KAM has actively engaged in the Africa Climate Summit and various associated events.
Yesterday, KAM Chief Executive, Anthony Mwangi, participated in a side event co-hosted by the Kenya Private Sector Alliance (KEPSA) in collaboration with the National Environment Management Authority (NEMA) and the UN Environment Programme (UNEP) themed, 'Unlocking Africa's Green Manufacturing and Trade towards a Low Carbon Development Pathway.' During his speech, he highlighted KAM's initiatives, which encompass green growth, circular economy practices, and strategies for combating climate change through the adoption of green manufacturing practices.
KAM was among the organizations that committed to being part of the Nairobi Declaration. The declaration is a pivotal document that symbolizes Africa's collective response to the pressing climate crisis. The African continent is particularly vulnerable to droughts, floods, desertification, and escalating temperatures, all of which pose substantial threats to agriculture, water resources, and the well-being of its inhabitants.
Furthermore, KAM Chair, Rajan Shah, actively participated in the Nation Leadership Forum aired on NTV. This forum focused on energy and climate adaptation, with specific emphasis on shaping a resilient energy future for the manufacturing sector. His insights underscored the importance of addressing these critical issues.
Today, we were honored to be part of the Africa Public Sector Conference, themed "Towards a Digitized, Green, and Resilient Economy." This event brought together key stakeholders and senior leaders from Africa's public sector, driving innovation. It also attracted leading private businesses offering innovative public sector solutions. The discussions primarily centered on technology's role in improving public sector efficiency and sustainability. Also in attendance were Cabinet Secretary, Ministry of Tourism, Wildlife and Heritage, Hon Peninah Malonza and Governor Kwale County, Her Excellency Fatuma Achani.
Looking for elevation? KAM lifts you up.
Direct technical assistance
Capacity building programmes
Networking and mentorship
Industry insights & analysis
Trade & export development services
The Kenya Association of Manufacturers wants your company to live up to its full potential. That's why we provide direct technical assistance and training to growth-oriented manufacturing SMEs, keeping you at the top of your game always.
Join us today, we're at your service.
Search for articles