Advancing industry competence through strategic partnerships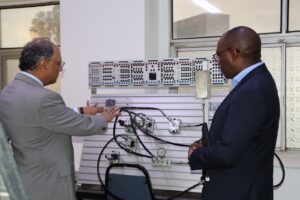 28/08/2023: KAM Chief Executive Anthony Mwangi held a meeting with Dr Kevit Desai, the Managing Director of Centurion Systems, and Ashutosh Singh from the National Skill Development Corporation (NSDC) to explore potential areas of collaboration aimed at fostering skills development and enhancement.
KAM Chief Executive, Anthony Mwangi, highlighted the organization's robust dedication to enhancing sector-specific skills and ensuring its members are well-versed in the latest advanced technologies. He encouraged the adoption of global best practices and state-of-the-art innovations like Lean IoT. The objective is to enhance the organization's overall efficiency, maximize productivity, elevate global competitiveness, all while minimizing its environmental footprint.
"KAM is looking to establish a centre of excellence. This centre of excellence will serve as a training ground for individuals seeking to acquire pertinent industry competencies, ranging from mechatronics, automation, and Internet of Things (IoT) to emerging fields like pneumatics. Through this initiative, KAM aims to fortify the skill sets of its members, positioning them at the forefront of innovation and sustainable industrial practices." Remarked Mr Mwangi
Mr Ashutosh Singh mentioned that NSDC has forged highly successful partnerships with the private sector and Technical and Vocational Education and Training (TVET) institutions. The primary objective of NSDC is to facilitate the advancement of skill development by stimulating the establishment of substantial, high-quality vocational institutions with a profit-oriented approach. Moreover, he highlighted that, NSDC facilitates a robust support system that emphasizes quality assurance, information systems, and the establishment of train-the-trainer academies, either through direct implementation or in collaboration with strategic partners.
Centurion Systems has taken a proactive approach to bridge the current gap in the market by providing specialized mechatronics training. Trainees at Centurion Systems have the opportunity to specialize in mechanical, electrical, and pneumatic modules.
"Since 1989, we've been active in supporting efficiency and productivity enhancement across East Africa. This proficiency is reinforced by our in-house capabilities and strategic partnerships with key stakeholders. Through personnel recruitment, we provide a skilled technical workforce that boosts global competitiveness." Noted Dr Desai
Looking for elevation? KAM lifts you up.
Direct technical assistance
Capacity building programmes
Networking and mentorship
Industry insights & analysis
Trade & export development services
The Kenya Association of Manufacturers wants your company to live up to its full potential. That's why we provide direct technical assistance and training to growth-oriented manufacturing SMEs, keeping you at the top of your game always.
Join us today, we're at your service.
Search for articles