Addressing Plastic Pollution Through Circular Economy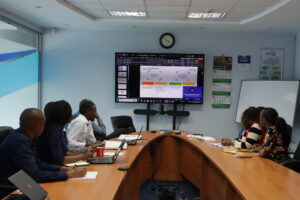 11/10/2023: In the business world, networking and collaboration are essential components of building successful partnerships. Managing Director, DOW Chemicals East Africa, Mr Leonard Kareko paid a courtesy call to KAM Chief Executive Anthony Mwangi, to discuss potential areas of collaboration in promoting circular economy practices and effective waste management strategies.
KAM has played a leading role in establishing and incubating Producer Responsible Organizations (PRO) such as Kenya Extended Producer Responsibility Organization (KEPRO) and Packaging Producer Responsibility Organization Limited (PAKPRO). Furthermore, KAM, in collaboration with the Agrochemical Association of Kenya (AAK-GROW), is championing the establishment of the Kenya Hazardous Waste Producer Responsibility Organization (KEHAPRO). Additionally, in partnership with the Global Off-Grid Lighting Association (GOGLA), we are setting up the Electronic Waste Producer Responsibility Organization of Kenya (EPROK).
Mr Kareko reiterated that to effectively combat plastic pollution, it is imperative to develop comprehensive instruments that can unite stakeholders. These instruments should inspire and empower members to adopt meaningful steps toward achieving zero plastic pollution. This involves not only reducing plastic use but also addressing the entire lifecycle of plastics, from production to disposal.
On the other hand, KAM Chief Executive emphasized KAM has ramped up efforts to address some of these challenges. Through the introduction and promotion of technology and financial linkages as a service, we hope to solve most of the existing issues.
"While industries are continuously adopting green manufacturing practices, some firms still face challenges in promoting circularity and sustainability in their operations. Hindrances such as inadequate green financing, poor collaboration between circular economy and sustainability teams and financial institutions, lack of metrics to account for levels of sustainability, and absence of comprehensive integrative strategies to harmonize greening processes have slowed down the adoption of green manufacturing practices." Noted Mr Mwangi
Both DOW Chemicals East Africa and KAM recognize the significance of adopting circular economy principles, not only for the environment but also for the long-term sustainability of their businesses.
Looking for elevation? KAM lifts you up.
Direct technical assistance
Capacity building programmes
Networking and mentorship
Industry insights & analysis
Trade & export development services
The Kenya Association of Manufacturers wants your company to live up to its full potential. That's why we provide direct technical assistance and training to growth-oriented manufacturing SMEs, keeping you at the top of your game always.
Join us today, we're at your service.
Search for articles