KAM engages development partners on Kenya Manufacturing 20by30 Plan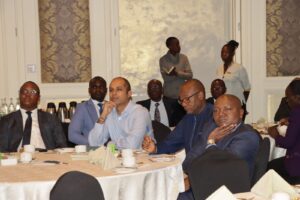 12/09/2023: Kenya Association of Manufacturers (KAM) aims to increase manufacturing sector contribution to GDP from 7.8% in 2022 to 20% in 2030 through 4 critical focus areas – Global Competitiveness, Export-led Growth, SME Development, and Agriculture for Industry – in line with the Kenya Manufacturing 20by30 Plan.
KAM has today engaged development partners on the 20by30 Plan, particularly on the Agriculture for Industry Pillar. KAM Chief Executive, Mr. Anthony Mwangi, noted that the Association seeks to champion the development of agro-based value chains and redefine the manufacturer's role in the agricultural sector, adding, "On one end, farmers cannot find a market for their produce and do not have certainty of returns whereas agro-processers do not have a predictable and consistent supply chain of produce from the perspective of price, quantity, and quality."
Among the concerns highlighted by agro-processors include low productivity, post-harvest losses and inconsistent supply of farm produce, which affects price and quality of raw materials and production planning. Additionally, agro-processors are limited in the variety of crops they can locally access to produce different products. For instance, the type of tomato farmed in the country is suitable for home cooking but not for processing into tomato paste.
The Association called for collaboration among stakeholders, including development partners within the agro-processing value chain, to improve access to finance, support the provision of quality seeds and good agricultural practices, strengthen aggregation and storage systems to enhance efficiencies in distribution, and support capacity building on mitigation of post-harvest losses. KAM will continue to engage diverse stakeholders to create a sustainable ecosystem as it endeavours to bolster integration between agriculture and manufacturing.
Looking for elevation? KAM lifts you up.
Direct technical assistance
Capacity building programmes
Networking and mentorship
Industry insights & analysis
Trade & export development services
The Kenya Association of Manufacturers wants your company to live up to its full potential. That's why we provide direct technical assistance and training to growth-oriented manufacturing SMEs, keeping you at the top of your game always.
Join us today, we're at your service.
Search for articles