Kenya Industry and Entrepreneurship Project: Launch of SME Cohort 2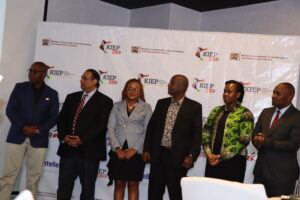 11/08/2023: KAM continues to support Small and Medium-sized Enterprises (SMEs) in the manufacturing sector, driving their competitiveness and productivity through the KAM SME Hub. Our initiatives aimed at SME development encompasses strategic partnerships with financial institutions, mentorship programs, and comprehensive capacity-building efforts, among others.
KAM Chief Executive Anthony Mwangi participated in the launch of the Kenya Industry and Entrepreneurship Project (KIEP). This project, known as KIEP250+, is a private sector support initiative led by the Ministry of Investments, Trade, and Industry in collaboration with the World Bank. Through this programme, business improvement initiatives of 250+ SMEs are supported through a combination of business advisory support and performance-based grant funding.
Speaking during the launch, Industrialization Secretary from the State Department for Industry, Mr. Nobby Macharia, highlighted the focus sectors in line with the Bottom-Up Economic Transformation Agenda: Manufacturing, Agriculture, Housing and Settlement, Healthcare, Digital Superhighway, and the Creative Economy. He stated that priority will be given to SMEs active in these sectors.
KAM Chief Executive Anthony Mwangi remarked that, "KAM recognizes the role of SMEs in driving the country's economic development. This is demonstrated in our priority focus areas, as we seek to increase the manufacturing sector's contribution to the GDP from the current 7.8% to 20% by 2030, as envisioned in our Manufacturing Vision 20by30 Plan. These areas include SME Development, Agriculture for Industry (A4I), Export-led growth, and Global Competitiveness."
He further acknowledged the role Government is playing to support SMEs, saying, "We laud the government for developing tailor-made solutions to challenges facing SMEs, such as KIEP. I urge SMEs to take advantage of such opportunities to enhance competitiveness and productivity."
Philip Maitha, Project Coordinator KIEP, articulated the essence of this initiative, emphasizing its role in guiding SMEs toward a promising future by facilitating a strategic examination of their operational management
World Bank Group KIEP task team leader, Mr Sameer Goyal, emphasized that SMEs hold global recognition for their significant contributions, particularly in bolstering the labour market. Their role extends to various facets of economic growth and sustainability.
Looking for elevation? KAM lifts you up.
Direct technical assistance
Capacity building programmes
Networking and mentorship
Industry insights & analysis
Trade & export development services
The Kenya Association of Manufacturers wants your company to live up to its full potential. That's why we provide direct technical assistance and training to growth-oriented manufacturing SMEs, keeping you at the top of your game always.
Join us today, we're at your service.
Search for articles