KAM Participates in High Level Dialogue on Accelerating Industrial Tranformation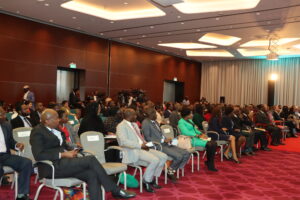 17/08/2023: KAM participated in a high-level dialogue themed: "Kenya: A Driving Force in Accelerating Continental Trade and Investment," organised by the United Nations Conference on Trade and Development (UNCTAD).
Present at the event were His Excellency President William Ruto, Prime Cabinet Secretary Musalia Mudavadi, Cabinet Secretary, Ministry of Investments, Trade, and Industry, Honorable Moses Kuria, UNCTAD Secretary-General Ms Rebeca Grynspan, among other dignitaries and business leaders.
During the conference, His Excellency President William Ruto remarked that our call for reforms in the international financial system aims to establish a more equitable framework that will facilitate funding for Africa's development. He emphasized that a more refined and responsive system will help the continent revamp its infrastructure, deepen integration, and stimulate intra-continental trade. This, he highlighted, is the path towards achieving the Sustainable Development Goals (SDGs) through collaborative efforts.
In relation to the challenge of climate change, President Ruto stated that the issue impacts everyone. He stressed the necessity for collaborative efforts in tackling the problem, involving both the nations from the global south and the global north. "We need to come together to support environmentally friendly economic development and the reduction of carbon emissions."
UNCTAD Secretary-General, Ms Rebeca Grynspan acknowledged that the call for international reforms can lead to multilateral change. "Convergence is the first step toward building AfCFTA. If countries can come together and harmonize rules and barriers that the private sector is facing, investments can scale up on the continent."
Industry leaders also had the opportunity to deliberate on how Kenya can harness the African Continental Free Trade Area (AfCFTA) to unlock opportunities in terms of income, jobs, and other benefits from the trade in goods and services, as well as integration into regional and global value chains. They discussed opportunities for Kenya to create an enabling environment that fosters innovation, technological change, and low-carbon development.
In accordance with UNCTAD's economic advancement plan for Africa, KAM Chief Executive, Anthony Mwangi remarked that, "We have examined all the fundamental elements of this initiative, each of which is directed towards enhancing the role of the private sector. Our strategy is in harmony with the Bottom-Up Economic Transformation Agenda (BETA) and Vision 2030, focusing on enhancing global competitiveness, stimulating export-driven expansion, nurturing the growth of Small and Medium-sized Enterprises (SMEs), and promoting the agricultural contribution to the industry (A4I)."
Looking for elevation? KAM lifts you up.
Direct technical assistance
Capacity building programmes
Networking and mentorship
Industry insights & analysis
Trade & export development services
The Kenya Association of Manufacturers wants your company to live up to its full potential. That's why we provide direct technical assistance and training to growth-oriented manufacturing SMEs, keeping you at the top of your game always.
Join us today, we're at your service.
Search for articles