KAM pays courtesy call to Kenya Power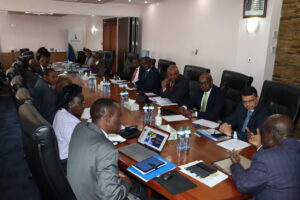 3/08/2023: Manufacturing (commercial and industrial) customers uptake almost 53% of the power produced nationally. Today, we paid a courtesy call to the Managing Director (MD) & CEO of Kenya Power (KPLC) Eng Joseph Siror, to explore ways of strengthening our partnership. We also discussed strategies to tackle operational challenges related to power issues.
KAM Chief Executive Anthony Mwangi emphasized the longstanding collaboration between KAM and Kenya Power. "We have continuously held open forums to raise awareness among KAM members about the importance of adopting energy-efficient practices in their manufacturing processes. These forums serve as platforms for open discussions, knowledge sharing, and fostering a collective understanding of the significant role manufacturers play in energy conservation."
"KAM is setting the stage for industrial development in the country through the Vision20by30 agenda, aiming to have the manufacturing sector contribute 20% to GDP by 2030. To achieve this goal, we have conducted sector-based deep dives to identify and address vertical and horizontal policy and operational issues." Added Mr Mwangi
KAM Head of Policy, Research and Advocacy, Job Wanjohi pointed out that the Time of Use (ToU) tariff was established in 2018 to incentivize companies consuming energy during off-peak periods, although the uptake is still low. This threshold has been reviewed every 6 months with an expected growth factor of 6%. He highlighted proposals such as infrastructural enhancement and a yearly review to onboard more customers.
Kenya Power's Managing Director & CEO, Eng Joseph Siror, noted that KPLC, the leading power operator in Kenya, procures a significant amount of electricity from both KenGen and Independent Power Producers. Their primary focus is on expanding electricity sales during non-peak hours, with large power consumers (using 7000 to 15,000 units per month) being a crucial segment. Currently, Kenya Power is developing smart meters to monitor electricity supply in real-time, aiming to enhance efficiency and effectiveness.
He further emphasized that Kenya Power understands the pain points of industry and is committed to undertaking simulations to better analyze and understand potential challenges and solutions in relation to power. "We are upgrading and expanding our power infrastructure, including transmission and distribution networks. This will help reduce transmission losses, improve reliability, and enhance the capacity to meet increasing power demands."
Looking for elevation? KAM lifts you up.
Direct technical assistance
Capacity building programmes
Networking and mentorship
Industry insights & analysis
Trade & export development services
The Kenya Association of Manufacturers wants your company to live up to its full potential. That's why we provide direct technical assistance and training to growth-oriented manufacturing SMEs, keeping you at the top of your game always.
Join us today, we're at your service.
Search for articles