18th KAM-KAIZEN Congress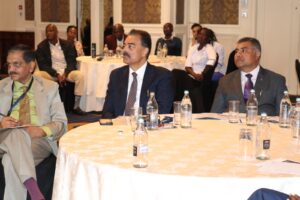 27/9/2023: KAM, in partnership with Kaizen Institute, hosted the 18th Annual Kaizen Congress. The inception of the KAM – KAIZEN programme in 2005 has played a key role in supporting local industries adopt Kaizen practices.
Over the past 18 years, KAM has advocated for the implementation of the Kaizen methodology and has continued to collaborate with Kaizen Institute Africa in this endeavour.
Speaking during the opening session, KAM Chair, Rajan Shah, noted that continuous improvement is a never-ending process. Organizations are always seeking to be better. Quality, productivity and profitability are inseparable, and serve the purpose of making service operations efficient.
Additionally, quality involves production of goods and services that the customers need and want. Once quality improves, it has a positive impact on revenue, cost and capital employed.
He also added that when the functioning and reliability of an organization improves, it boosts the organization's image in the market and leads to customer retention and an increase in the customer market share. These changes also stimulate sales volume growth, differentiate a provider from the competition and make the provider less dependent on price competition.
Also present during the session was Bidco Africa Chairman, Vimal Shah, who reiterated that Kaizen is a continuous improvement process that focuses on reducing waste, thus overall increased performance.
He further added that whereas most of us in business tend to focus on competitive advantage, it is imperative that they also look at embracing collaborative advantage. Through collaborative advantage, they get to learn best practices from their peers, as they work on improving their processes, for the overall sustainability and enhanced performance their businesses.
Looking for elevation? KAM lifts you up.
Direct technical assistance
Capacity building programmes
Networking and mentorship
Industry insights & analysis
Trade & export development services
The Kenya Association of Manufacturers wants your company to live up to its full potential. That's why we provide direct technical assistance and training to growth-oriented manufacturing SMEs, keeping you at the top of your game always.
Join us today, we're at your service.
Search for articles