Manufacturing Priority Agenda
Since 1959, when Kenya Association of Manufacturers (KAM) was formed, we as an association have sought to develop the Kenyan manufacturing by pushing outward the fringes of the sector to new productive areas and activities. We have grown from a small club of like-minded manufacturers with a common vision to a powerful voice for the sector in this country. Our role has evolved over time to champion the overall goals outlined in 2008 by the Kenyan government in Vision 2030 which seeks to turn our nation into an industrialised nation. Kenya seeks to be a higher middle income economy driven by industrial transformation.
The journey to this vision is still underway as we come to a close with the second Medium Term Plan (MTP II) this year and prepare to transition to another phase of development in 2018 with MTP III. We are cognisant of the need not only to accelerate our efforts but to do so in a perceptive manner. The Kenya Industrial Transformation programme (KITP), in whose development KAM played a notable role, provides for a roadmap to enhance manufacturing and value addition, to stimulate exports and subsequently transform our economy. Among the key areas of focus is manufacturing sector's transformation, infrastructure expansion, enhancing local content, long term finance access, SMEs expansion to rising stars in the region and improvement of the manufacturing sector investment environment.
In this industrial development process, KAM aims to be a knowledge supplier to a world class manufacturing sector. Our objective is to outline the key strategic objectives which will lead to the structural transformation of this country from an agro based economy into an industrial one. These objectives have been developed into five pillars and are derived from the top most challenges that manufacturers face daily and which, if resolved, could lead to faster growth. Our approach is evidence based and focused only on viable interventions.
However, we are not just keen to attain economic growth but we are focused on seeing that this growth is inclusive and sustainable. In line with the Sustainable Development Goals (SDGs) we are committed to the inclusion of women and youth through the development of the SME sector. This desire is captured in our theme for this year and also in our focus on the SDG no. 9 in the entire document.
The Manufacturing Priority Agenda is our annual take on these strategic policy actions particularly as we head into elections later on this year and parties prepare their manifestos. It is important for both the current and incoming government to look at our recommendations and address the concerns of the sector if we are to continue on the growth trajectory we have undertaken. Finally, I wish to thank the team at the Policy Research and Advocacy unit that was involved in preparing this document for their valuable insights, as well as all KAM staff who have given their commitment towards the achievement of these goals. As we move forward, as KAM secretariat, we seek to achieve excellence in meeting the needs of our members and more so, for our beloved country.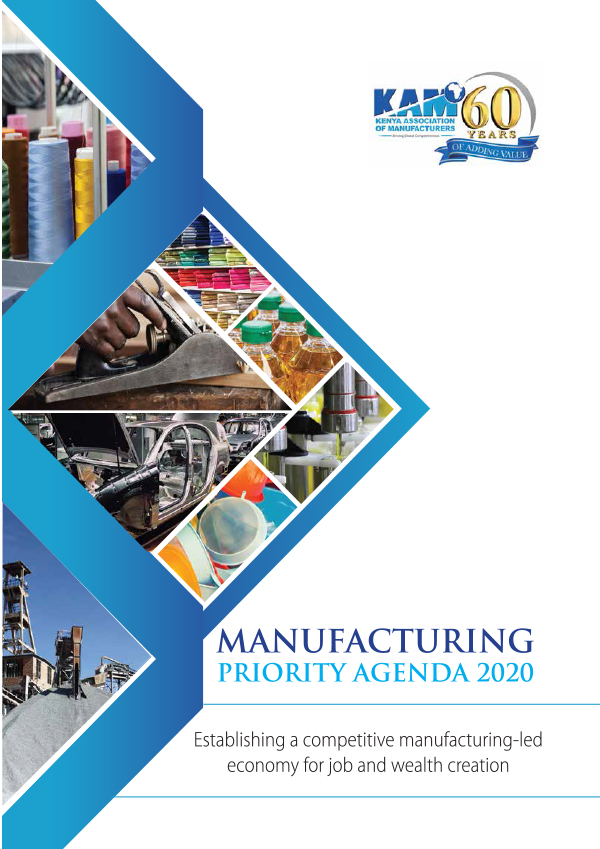 Looking for elevation? KAM lifts you up.
Direct technical assistance
Capacity building programmes
Networking and mentorship
Industry insights & analysis
Trade & export development services
The Kenya Association of Manufacturers wants your company to live up to its full potential. That's why we provide direct technical assistance and training to growth-oriented manufacturing SMEs, keeping you at the top of your game always.
Join us today, we're at your service.